About me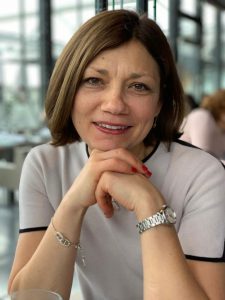 I am a Mother to four great boys and a former senior executive. I coach my clients in an inspiring and non-judgemental manner, helping them to find the power within to achieve their success, their desired performance and their happiness, in all aspects of life.
During my coaching training, I remember an assignment where I was asked to have a few people I knew characterise me in three words. The ones that kept coming up were: "passionate", "sincere" and "perfectionist". 
Thinking about my life, each of these values and principles have always been an integral part of me. They were the driver behind my commitment and my dedication to everything I ever tried and did. Born in Moscow, during my University years, I secured a role at one of the "Big Four" accountancy firms in London to become a professional accountant. My career led me to the financial services sector in the City (of London) and eventually to setting up and leading a regional office for my employer in Russia, one of the two most empowering experiences in my adulthood. 
My life changed with the birth of my third son which dramatically shifted the emphasis of its purpose and meaning. I became a stay-at-home Mum, throwing myself fully into the world of schools, sports, activities, learning at every opportunity and embracing every new challenge along the way. I see dedicating my life to my children as another powerful part of my life journey.
Some years later, I was back working in the City. I was looking for a breakthrough, a new self-discovery and self-realisation. Every morning I went back to work, full of ideas but something didn't feel right: I wasn't fulfilling my dream and, in my work, was not connecting to my life purpose. Questioning what was missing is what brought me to coaching.
One of the most important values that I have is continuous personal growth. Coaching helped me re-connect with this value because I realised that all this time and no matter what I was doing in life, I was growing. With all my passion, sincerity and a strive for excellence, I was leading myself and people around me to always be better and learn from all experiences and situations.
I have received my coaching training and my certification from Institute for Professional Excellence in Coaching (iPEC) – a leading coach training company accredited with the International Coach Federation (ICF). I am an Energy Leadership Index Master Practitioner (ELI-MP) and a COR.E Dynamics Specialist in Transitions. I apply the core energy coaching approach to working with my clients. 
I see the best in each of my clients, even when they don't. I believe that each person can lead themselves to wherever they want to go. I connect with people at a deep level and coach them to find solutions, make decisions and get results, from harnessing the power within them. Natasha's life coaching sessions have literally opened a whole new world to me. Thanks to Natasha's coaching programme, I have had many insights which made me look at various areas of my life from a completely different angle. Natasha helped me bring structure into my life and and I was able create a plan of specific actions in the areas which I felt needed improving. Even after a few sessions I was able to see the changes: I started feeling much happier. Most notably, I now have that very special feeling that I am the leader of myself, and I am the one who is capable of creating a winning strategy for myself and for my own life.
Alla, Business Development Director, Global Law Firm, Russia